Ship Performance Monitor (SPM)
Monitoring and collecting vessel and fleet data is a key element in identifying inefficiencies and reducing the environmental footprint.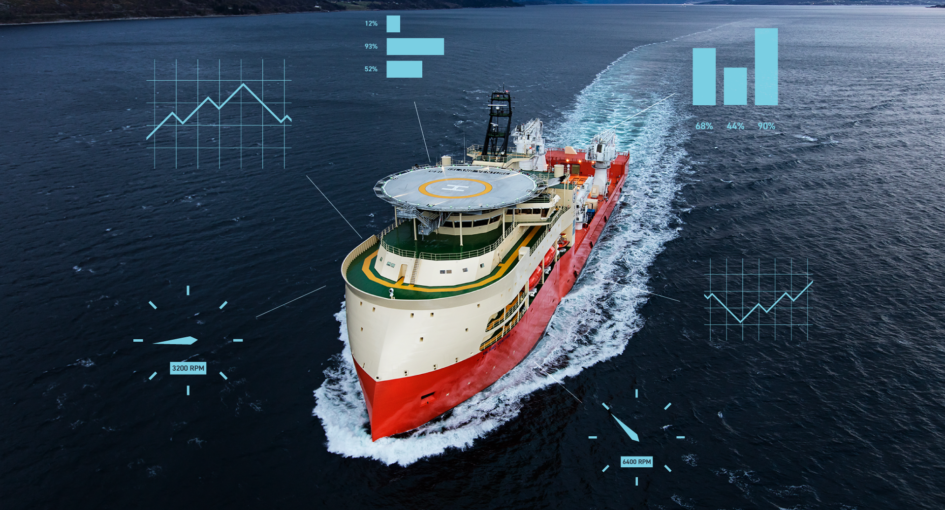 Høglund Ship Performance Monitor (SPM) is a highly adaptable monitoring software, designed to help manage and improve the ship efficiency. Day- and Mode Reports will automatically be generated and sent to Høglund Cloud Server together with LiveData from the vessel.


Fully Automatized Data Reports
Høglund SPM will automatically generate Day- and Mode Reports. Day reports are triggered at noon or midnight (configurable). Mode reports are triggered according to operation mode (In Port , Transit, Operation etc). These reports will contain important data such as Fuel and Power consumption, together with other ship relevant data such as vessel speed, wind, wave, draft and trim data. Høglund has high focus on lowering the installation cost, using existing sensors already available onboard.

Why install expensive flowmeters when the fuel consumption easily can be calculated with up to 98% accuracy?
LiveData – Mirroring data from vessel to cloud

Høglund expertise lies in gathering data from all types of systems onboard a vessel. All ships with Høglund solutions will also have our playback functions – making it possible for the crew to go back in time and troubleshooting historical events.
With our LiveData solution we are making the playback function available onshore through our cloud portal. This solution will enable multiple options;
Monitoring status of onboard systems through mirrored mimics
Troubleshooting incidents with onshore playback functionality
BigData analyses and digital twin functionality
Calculations of customer specific reports using historical data
Cyber Security – Safety first

Høglund follows class society guidelines for Network Protection and Cyber Security regulations. All external network connections to Høglund IACS needs to go through our Høglund cSafe™ firewall. Our firewall software is designed according to IEC 62443-3 regulations for Network/Cyber security.
Høglund has hight focus on keeping bandwidth usage down to a minimum. Data is compressed before it is uploaded. LiveData Bandwidth usage for large vessels with 10 000+ signals is approx. 25-30 kB pr minute, not noticeable even for vessels with very low satellite link. If internet connection goes down, data will be buffered onboard – no data will be lost!
Accessing Data through Høglund Fleet Manager

Data stored in Høglund Cloud server will be made available through our Fleet Manager portal. Crew will have write-access to reported data, making it possible to adjust Day- and Mode reports if incorrect data has been reported. With LiveData located on our server, new fuel and power consumption may be recalculated when date&time for the events are manually adjusted.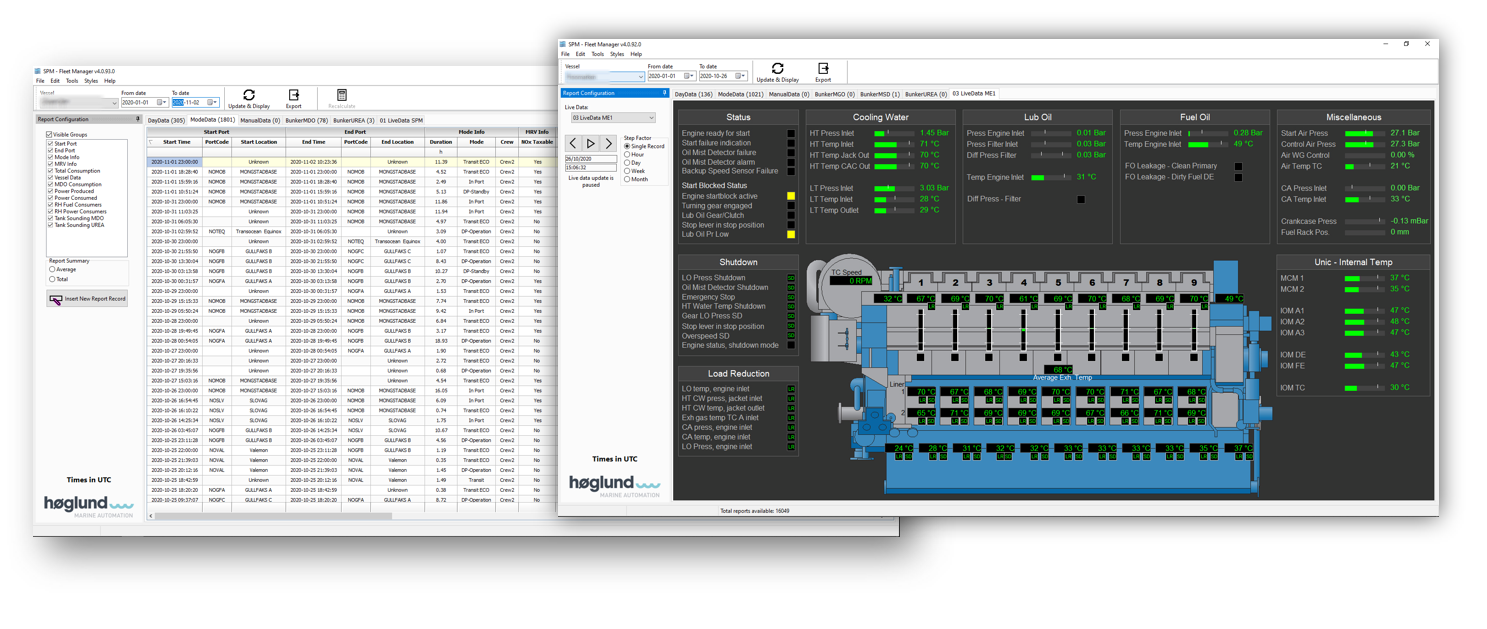 Mimics from vessels are mirrored in our LiveData viewer. Playback functionalities make it possible to see historical data.
Data can be exported to pre-defined excel report templates. Høglund SPM complies to EU MRV regulation 2015/757. Our solution is certified as an EU MRV IT System and is compatible with Tethis MRV platform requirements.
Cloud-to-Cloud Data Transfer
Customer owns the data and decides what to do with it. Høglund cloud server supports multiple ways of sharing the data we have gathered for our customers.
Data can be accessed through our API
Data can be sent to other cloud servers through MQTT or by using vendors APIs

Høglund Partners

Høglund is an approved data collector for DNV-GL Veracity platform. We have many ongoing projects together. One of the most exciting projects is focusing on utilizing Høglund LiveData feature, fully automating the EU MRV and IMO DCS report function.

Høglund Data Reports are presented graphically on Yxney's MarESS platform. This platform can be customized to present fleet data for all types of vessels.
Why invest in Høglund Ship Performance Monitor software?
Customer in focus - Høglund solutions are adapted according to our customers requests and demands.
Adaptable and secure software specially designed to fit all types of vessels world wide
Provides a clear overview of the vessels fuel consumption, emissions, and other vessel relevant data
LiveData feature used for monitor, troubleshoot and analyze your Fleet
Generate reports from customized KPI templates such as DNVGL IMO DCS/EU MRV
Data can easily be shared with other vendors
Download
| Description | Link |
| --- | --- |
| Product Sheet Høglund SPM | DOWNLOAD |