Høglund and Veracity by DNV partner to ease emissions reporting for shipowners
2023/06/27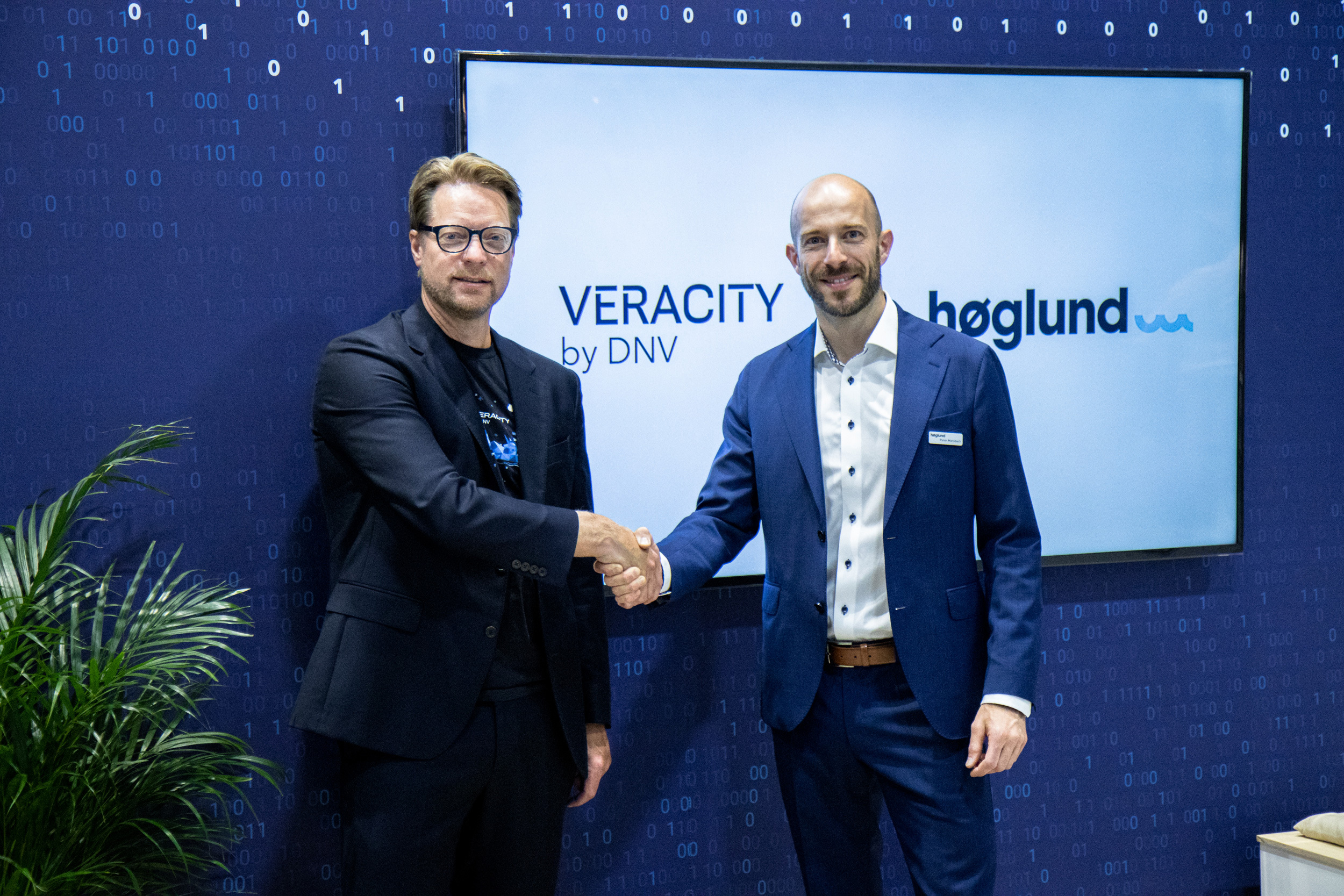 shaking hands
Høglund, a renowned provider of automation solutions for the global shipping industry, has entered a partner agreement with DNV's leading industry cloud platform, Veracity. Together, the partners will provide seamless flow of operational data from onboard vessels to DNV's data verification services, making emissions reporting more efficient for the partners' common customers.
The maritime industry stands to benefit significantly from the digitization of data collection, compilation, processing, analysis, distribution, and interconnectivity. With DNV's expertise in risk management and assurance services, and Høglund's automation solutions and vessel data utilization services, the partners share a common interest in driving innovation and fostering sustainable practices in the maritime industry.
By consolidating valuable information from vessels that are operating with Høglund's systems and their Connect portal, and running it over Veracity, the two partners enable stakeholders to access and utilize verified and trusted data efficiently. This integration promotes transparency, innovation, sustainability, and improved decision-making that benefits both customers and affiliated companies, as well as society as whole.
The partnership has generated excitement among many customers, including Swedish shipowner and operator, Sirius Shipping. Benjamin Fhager, Environmental Manager at Sirius Shipping, says: "We are thrilled to be offered this innovative solution by DNV and Høglund. It unlocks new possibilities for optimizing our operations and enhancing efficiency in the maritime sector. We look forward to the positive impact this collaboration will bring to our business, by offering a secure digital pipeline for standardized and scalable data exchange."
"This integration between Veracity and Høglund marks yet another milestone in our mission to transform the maritime industry through trusted data and connectivity between reputable and reliable partners" says Mikkel Skou, Executive Director at Veracity. " "As verified emissions data becomes increasingly important toward compliance and contractual obligations, we can help fleet managers and owners like Sirius Shipping with a more secure and streamlined process of sharing relevant information across the value chain. "
"We are thrilled to join forces with DNV on this ambitious venture," said Peter Morsbach, COO at Høglund. "By integrating our automation solutions and vessel operational data within the DNV Veracity Platform, we can drive innovation, optimize vessel performance, and create a more connected maritime ecosystem. Together, we will shape the future of the maritime industry."

About Veracity by DNV:
Veracity is DNV's independent cloud, set out to deliver trust and scale to industry digitalization and decarbonization. It brings together all the key players in the maritime and energy industries, to drive business innovation and digital transformation over a common data truth. On the Veracity Marketplace, users can further browse, purchase and access relevant industry data, applications, and digital services. Today, more than 10 000 vessels are connected to the platform and over 300 000 users engage over Veracity, enjoying frictionless connectivity through the exchange of datasets, APIs, applications, and insights.
Visit www.veracity.com to discover more.
About Høglund:
Høglund is a leading provider of automation solutions for the global shipping industry. With a core focus on system integration and utilization of vessel operational data, Høglund enables shipowners and operators to optimize vessel performance, enhance safety, and improve efficiency.