Høglund receives ISO 9001:2015 QMS certificate!
2022/01/18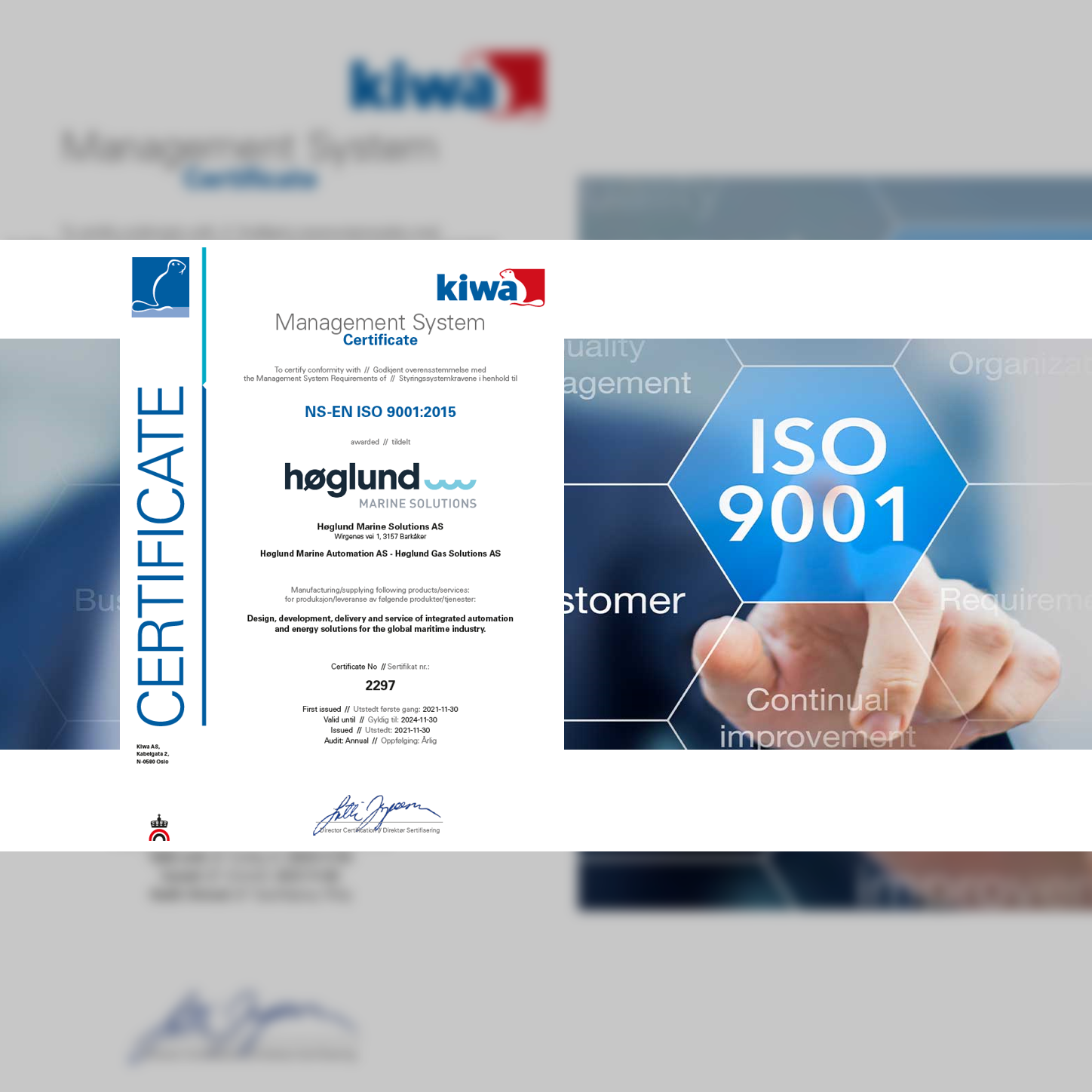 ISO certificate2
Høglund has received ISO 9001:2015 certification, demonstrating our ability to consistently provide products and services to the global maritime industry that meet customer and regulatory requirements.
Høglund Marine Solutions has received an ISO 9001:2015 - Quality Management System (QMS) certificate, a quality standard developed by the International Organization for Standardization (ISO).
The achievement of ISO 9001:2015 certification verifies that Høglund has successfully demonstrated the ability to follow the guidelines of the ISO 9001 standard; fulfill own expectations, meet customer, statutory and regulatory requirements and maintain documentation of such processes.
At Høglund, we are committed to creating smarter, cleaner, more efficient ships using advanced marine technology, while constantly enhancing customer satisfaction through the effective application of these systems. We offer new levels of performance and reliability, while protecting the environment for future generations. Høglund's integrated automation and energy solutions ensure safe, reliable and efficient operations for any vessel type.
Børge Nogva, President of Høglund Marine Solutions says: "This impressive certification reflects how Høglund continuously strives to deliver excellent products and services to our customers and to the industry, but now we have proof of this quality. This certification to the ISO 9001 standard will enhance Høglund's credibility and performance even further and we will work even harder to meet and exceed the quality targets."
The ISO 9001 is based on the 'plan-do-check-act methodology' and provides a process-oriented approach to documenting and reviewing the structure, responsibilities, and procedures required to achieve effective quality management.
More than one million organisations from more than 160 countries have applied the ISO 9001 standard requirements to their quality management systems and have found that using the ISO 9001 standard helps to organise processes, and continually improves the efficiency of processes.