Høglund & Yxney fuel monitoring software- a small investment for future savings
2020/03/31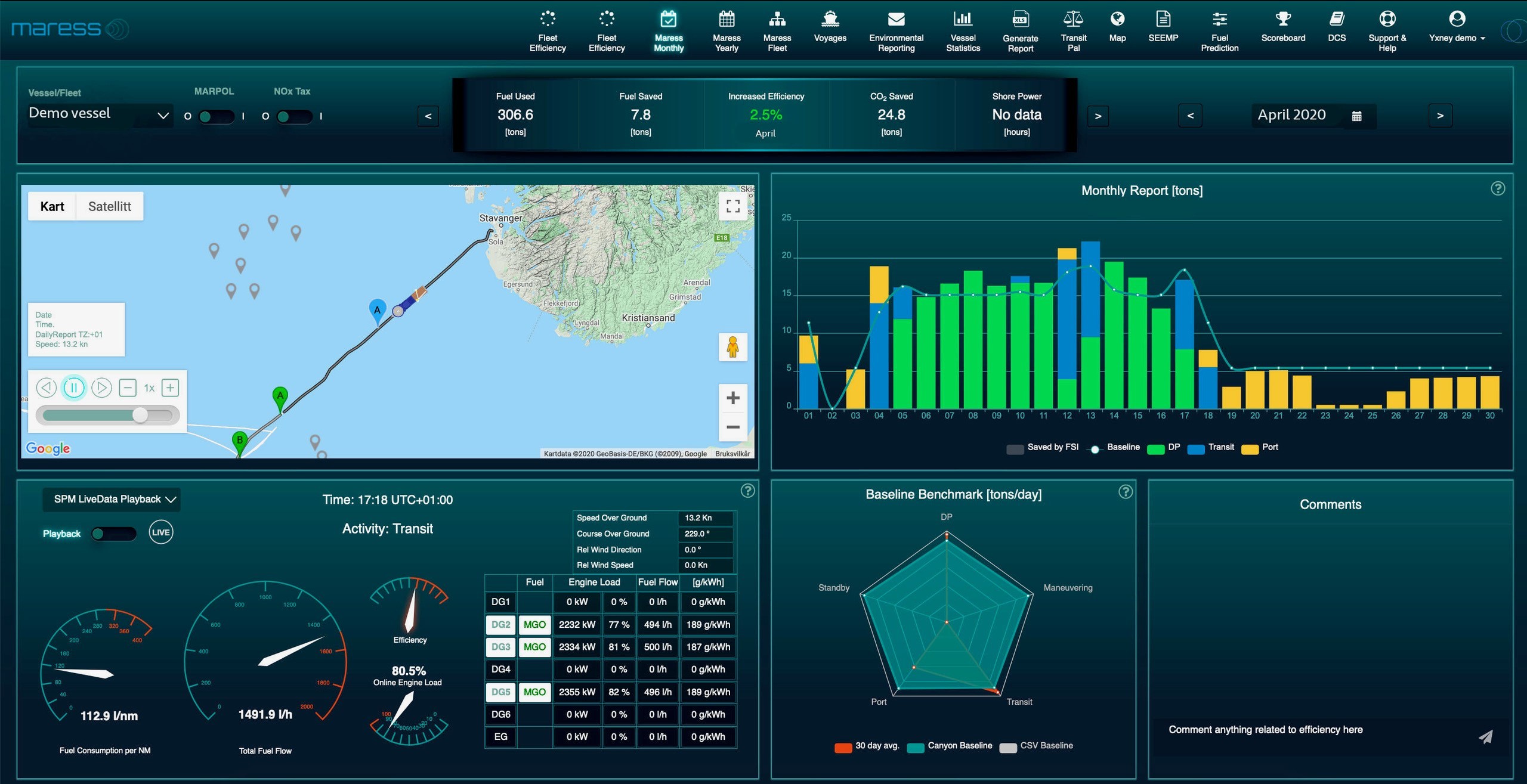 Maress 3
Reducing fuel consumption has always been a major challenge in the shipping industry. Now, perhaps more than ever, identifying vessel inefficiencies becomes a central issue for any ship owner, looking to secure the future of the fleet.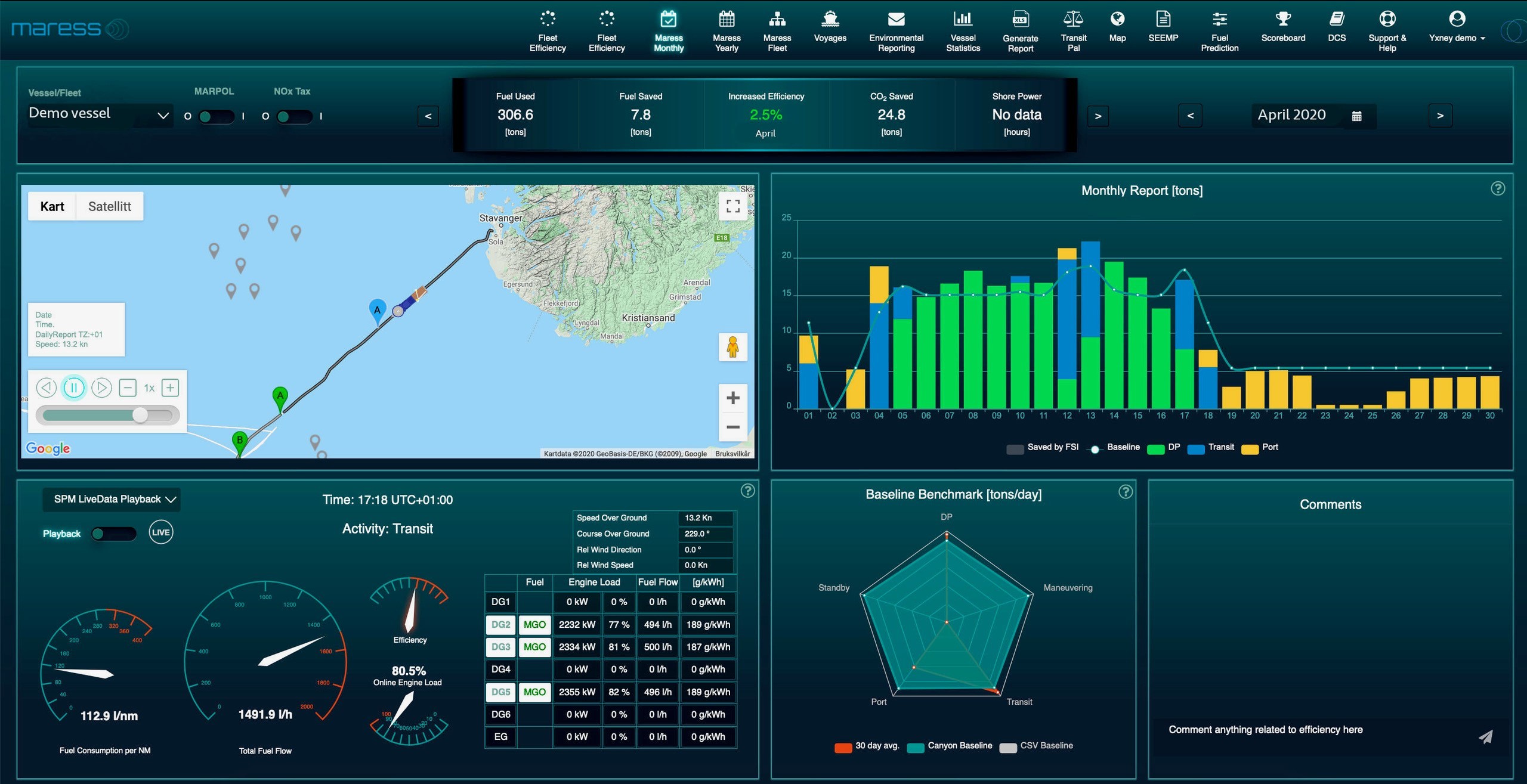 Yxney's Maress: Detailed vessel fuel consumption data.

Høglund Ship Performance Monitor (SPM) is a highly adaptable monitoring software, designed to help improve the vessel and fleet efficiencies by providing accurate live data on fuel consumption, emissions, tank sounding and vessel performance. Høglund SPM is seamlessly integrated with Yxney's MARESS platform, providing a powerful plug-and-play solution for live data. *

The software package is already widely used across geographical regions in the offshore sector, in addition to Tankers and merchant fleets, looking to optimize their vessel and fleet performance.
Siem Offshore started using Høglund SPM and Maress as energy efficiency fleet management tool in 2018. Siem wanted live fuel data available to all its users -onshore and offshore- at all times. By the end of the current year, 80% of the fleet is expected to have installed the system.
According to Siem Offshore Operations Manager, Jon August Houge, the tool is a must-have for any ship operator: «We were looking for a live fuel data management tool that would help the captain make the right decisions and communicate them to the crew by a simple mode selection. The software is outstanding in that respect, as it makes data instantly available to users onscreen. »
«I am very happy with the Høglund SPM system and the integration towards Yxney's MARESS. This has enabled Siem Offshore to benchmark fuel consumption on sister vessels and their crew, in addition to giving us a competitive edge in tenders and contracts with high focus on emissions and fuel management", Houge continues.
SPM Fleet Manager gives the operator full access to the reported data. Vessel crew, superintendents and other personnel with Fleet Manager installed can subscribe to all vessels within their fleet. Historical data give the possibility to analyze ship's fuel efficiency at different speed and load conditions.
That the rest of the Siem Offshore fleet is scheduled for installation of the software, does therefore not come as a surprise. «You get a lot of important functionality for a small investment», concludes Houge.
Some of the advantages of the Høglund SPM:
• Low installation costs, possibility for installation by remote connection
• See LIVE data from the ship
• Supports interface to all flow meters
• Possibility of calculating fuel consumption by looking at engine load and performance (SFOC)
• Fleet manager software with user- controlled access to the Fleet
• Web portal for presentation of Fuel reports through our partner Yxney Maritime
• API to our SPM Cloud server for exporting data to other databases
• Automatic data export to DNVGL's Veracity platform
Contact Høglund sales if you need more information about the system: sales@hoglund.no
*Note: Yxney´s Maress cloud-based software is the complete digital solution for decarbonization and emissions transparency at sea. Maress allows for strategic emissions management and quick roll-out to entire fleets by smart use of available data. In 2019 the vessels using Maress achieved a total emissions reduction of more than 50,000 tons CO2.