Remote Access
Remote access through vessel shipnet, enabling Høglund technichians to perform quick services or emergency assistance.
Through a remote access link, Høglund customer support technicians will gain direct access to the on board computers for remote service operations. This will help the technician to solve the problems without having to leave the office, thus keeping cost to a minimum and maximizing reliability and up time!
Cyber security is managed by Høglund cSAFE firewall. It protects the automation system from cyber attacks, and allows Høglund engineers to connect remotely to your vessel through a secure channel. Read more about Høglund cSAFE firewall solution here: cSAFE Firewall
All new/upgraded Høglund installation comes with a remote access solution. Normally OS11 (master computer) contains a separate network adapter named shipnet. Vessel crew needs to manually connect a patch cable between this adapter and an ethernet socket with internet connection. There should be a "Enable remote help" push button located in system status mimic on OS11. When pressing this button TeamViewerQS will appear with a IDnumber and a password. Our technician can now access the system.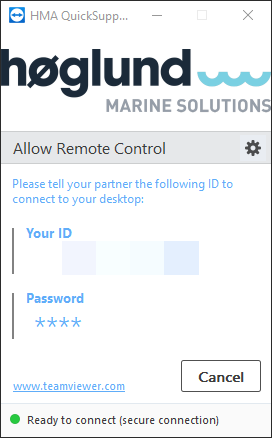 For older deliveries/projects, you need to follow this installation instructions before Høglund technicians can connect remotely:
Download TeamViewerQS.exe from link below.
Place the downloaded file in OS11 folder C:\Misc
Create a shortcut and place it on the desktop.
Make sure that OS11 is connected to the internet.
Run the program and give the ID number to the Høglund employee