Cut engineering time of automation systems by following these 4 simple steps
18/03/2022
When you know how to speed up the engineering process, you will see a significant decrease in your overall project cost. Høglund is known for our ability to deliver automation systems with short deadlines. Some years ago, we were asked to assist two LNG carriers that were being built but needed to replace their defective Power Management System as quickly as possible. After a brief project discussion, two Høglund engineers embarked the vessels in Korea five days later, with the necessary equipment to start the job.
In this article, we share some of our best secrets on how to keep engineering time to a minimum.


1. ​​​​​​​Minimize manual work. This is 2022!
Time is money. Automation of manual tasks is a must. But still engineering companies continue to punch thousands of parameters from an Excel list into their controller applications manually – one by one. This takes time. There are many ways you can automate this task, from macros and custom-written code to integrated functions in the controller application development environment. Our experience is that there is a huge difference between industrial controller brands on the market. Some controllers come with a variety of possibilities to automatically import source data and convert it into code that is ready to run. Other controllers are not automated at all, and if you choose this option, you will be left with a ton of manual work to insert and convert the source data into controller-formatted code.
How we do it in Høglund:
When engineering controller code in Høglund, we use our custom-made program BDM (Bulk Data Manager). This program runs from a macro within Excel and automatically converts the I/O list to controller-formatted code.
This is what our engineering process looks like:
The shipyard creates the I/O list in a database template supplied by us.
We open the I/O list in a Microsoft Access database and automatically create the necessary queries based on a standard template.
We export all the queries to an Excel workbook and run BDM to dump everything into the controller's IDE, which creates controller-formatted code.
See this video for a demonstration:
2. Develop expert engineers
Employees are the most valuable resource of any company. Skilled employees make the wheels turn. Still, some companies have a pool of newly hired engineers that do not have sufficient experience for performing complex tasks. This does not only result in lower quality of the product, but also means that the engineering time is prolonged. Working techniques and efficiency is not something that is picked up right away but comes with experience.
Companies that actively lay off employees during bad times and hire new personnel when the demand increases again, tend to have engineers that need to spend more time on their project than their more experienced colleagues. Therefore, a key to deliver efficient projects is to have experienced engineers.
How we do it in Høglund:
Høglund is a private company, and our owners know the value of our employees. In good times and in bad, we do what we can to keep our competence in house. As a result, we have Senior Engineers that have been with us for a very long time, happily passing their knowledge on to their younger colleagues.

3. ​​​​​​​Technical Single Point of Contact
Projects can sometimes be complex and involve many people. It could be difficult for the customer or the yard to find the right person to discuss a particular technical matter with. A Single Point of Contact (SPOC) facilitates communication with the project group and helps the customer with their queries, planning, and discussing technical matters.
How we do it in Høglund:
Our project managers for automation projects have all started out as project engineers or service engineers and have good technical competence for the automation solutions we deliver. The project manager is our Single Point of Contact for a project and can answer all questions and decide if suggested changes can be implemented. For smaller projects, the project manager is also the project engineer who carries out the engineering. He or she will therefore have the full overview and be able to accommodate all questions or concerns you as a customer may have. For larger projects where many engineers are involved, the project manager will know exactly what to answer the customer, either directly or after consulting one of the team members.
4. Remote connection
In the old days, before the age of the internet and remote connection, an automation project needed to be completely engineered before the hardware was installed. Today, the situation is no longer the same. Instead of doing all the engineering beforehand, a system can be installed on board and started up before all technical details are agreed. Once the details are settled, an engineer can connect to the system remotely to complete the outstanding functions. This frees up time for engineering of functions that are changed on a later stage. It also becomes a more economical solution as it requires less onsite commissioning time, if any at all.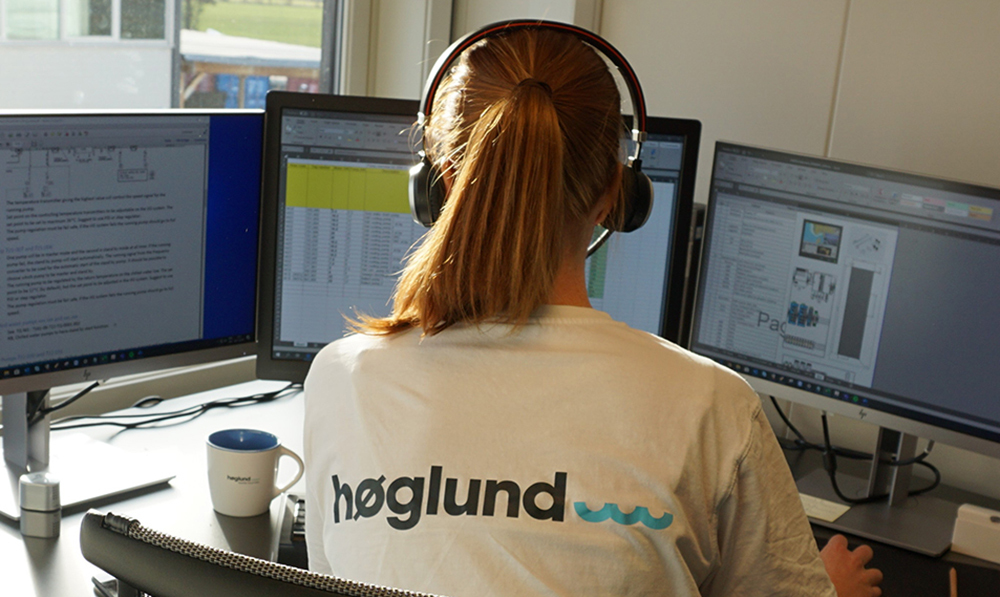 How we do it in Høglund:
Since our first remote connection back in 1997, Høglund have completed many thousands of remote connections. This has released much time for our engineers and saved our customers for high travel costs. Remote connection enables our system specialists to contribute to multiple system commissioning with the same time it would have taken to travel back and forth only to one project. The system specialists give support to our service and commissioning engineers whenever they face a tricky challenge. Høglund also has local partners around the world who are trained in start-up and commissioning of Høglund systems. They do complete system installation and commissioning with assistance from Høglund specialists.
We hope you like our tips!
These are just some of the methods we use every day to ensure that our automation systems maintain a fine balance between time, quality and cost. Get in contact to learn more: